<![endif]-->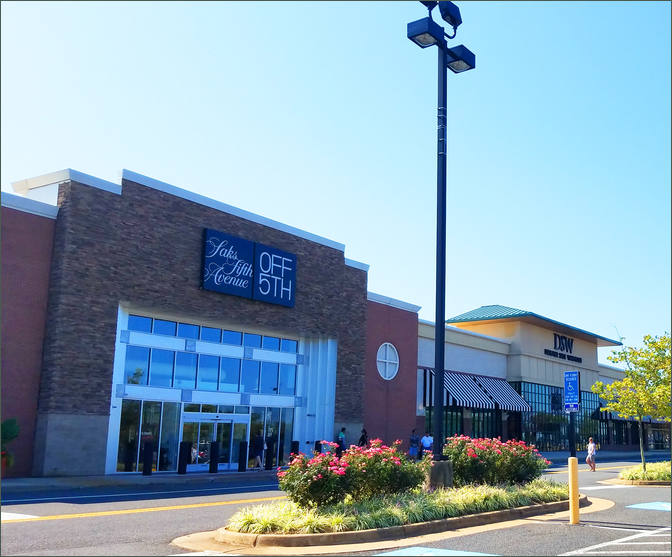 Fair Lakes Center
12997 Fair Lakes Center


Fairfax

, VA

22033




Fair Lakes Center is the ultimate power-shopping destination for the affluent northern Virginia suburb of central Fairfax County. Offering more than one million square feet of the nation's leading retailers and restaurants along with easy access from I-66 and the Fairfax County Parkway, it's no wonder Fair Lakes Center is a regional draw. Over the next 12 months, Fair Lakes Center will undergo a million dollar renovation to give the 25 year old center a modern new look.
Exciting anchor destinations including Target, Walmart, Best Buy, HomeGoods, Michael's, PetSmart and the newly opened Saks Fifth Avenue Off 5th.
Family-favorite dining options to please every palate including Guapo's, Sakura, Applebee's, Olive Garden, Red Robin and Cantina d'Italia.
Popular fast-casual dining hot spots including Chipotle, Noodles & Company, Subway and Jason's Deli.
Highly visible location off I-66 and the Fairfax County Parkway.
Demographics
| | 1 Mile | 3 Miles | 5 Miles |
| --- | --- | --- | --- |
| Population | 17,917 | 99,401 | 245,953 |
| Households | 7,927 | 37,629 | 86,148 |
| Avg HH Income ($) | 117,545 | 145,007 | 153,253 |
Highlights
For Lease
County: Fairfax County
Type: Retail
Total SF: 1,000,000

Leasing Contact
Will Donovan
Leasing Contact 12500 Fair Lakes Circle
Fairfax, VA 22033
p. 703-631-7560
f. 703-631-6481

Printable Version
New Flyer
Fair Lakes Center
Available Spaces
| | | | | |
| --- | --- | --- | --- | --- |
| 117 | 30,933 SF | | 119 | 15,404 SF |
| 123 | 12,000 SF | | 124 | 3,850 SF |
| | | |
| --- | --- | --- |
| 100 | Tony's NY Pizza | 3,360 SF |
| 101 | Plaza Nails | 800 SF |
| 102 | Bagel Buddies | 2,000 SF |
| 103 | Cleaners | 1,800 SF |
| 104 | GNC | 1,200 SF |
| 106 | Red Pepper | 1,954 SF |
| 107 | Gmart International Foods | 40,000 SF |
| 108 | HomeGoods | 30,348 SF |
| 109 | Michael's | 26,977 SF |
| 110 | Walmart | 182,800 SF |
| 111 | BJ's Wholesale | 123,800 SF |
| 112 | Target | 110,431 SF |
| 113 | Kirkland's | 9,010 SF |
| 114 | Tsunami | 2,500 SF |
| 115 | AT&T | 2,500 SF |
| 116 | Toys "R" Us | 81,042 SF |
| 120 | Sally Beauty Supply | 1,500 SF |
| 121 | Cantina d'Italia | 4,400 SF |
| 125 | DSW Shoes | 26,856 SF |
| 126 | Saks Fifth Ave Off 5th | 21,825 SF |
| 127 | World Market | 19,685 SF |
| 128 | Fair Lakes Dentist | 2,461 SF |
| 129 | Hair Cuttery | 1,200 SF |
| 130 | Verizon Wireless | 2,000 SF |
| 131 | Lane Bryant | 6,426 SF |
| 132 | Golf Galaxy | 12,351 SF |
| 133 | PETSMART | 25,010 SF |
| 134 | Torrid | 3,320 SF |
| 135 | VA ABC | 2,812 SF |
| 136 | Noodles & Company | 2,901 SF |
| 137 | Starbucks Coffee | 1,600 SF |
| 138 | Jason's Deli | 4,478 SF |
| 139 | Ha Sakura | 7,200 SF |
| 140 | Jared's Jewelers | 6,000 SF |
| 141 | Applebee's | 5,413 SF |
| 142 | Olive Garden | 9,100 SF |
| 143 | Exxon | 1,849 SF |
| 144 | Wendy's | 3,175 SF |
| 145 | Burger King | 3,200 SF |
| 147 | Ulta Beauty | 9,167 SF |
| 148 | Subway | 1,200 SF |
| 149 | European Wax Center | 2,400 SF |
| 150 | Allstate Insurance | 2,471 SF |
| 151 | Chipotle Mexican Grill | 3,089 SF |
| 152 | Guapo's | 7,782 SF |
| 153 | Red Robin | 7,995 SF |
| 154 | Best Buy | 50,400 SF |
| 155 | United Bank | 2,653 SF |
Fair Lakes Center