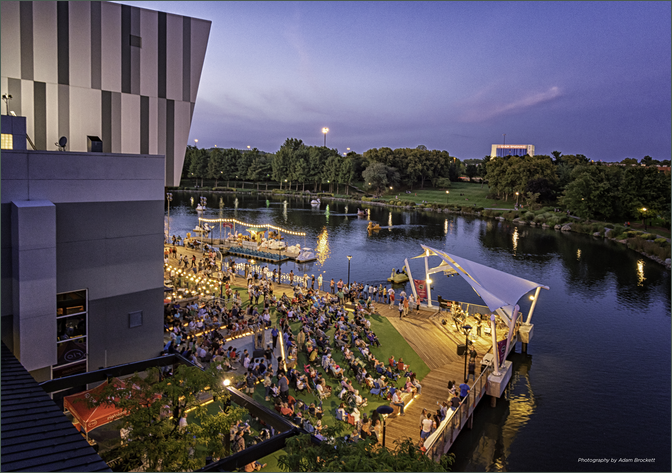 rio
209 Boardwalk Place


Gaithersburg

, MD

20878




With its unique waterfront experience and front-and-center location, rio is Gaithersburg's most celebrated shopping and dining destination. Here shoppers of all ages enjoy an unmatched retail experience in the heart of Montgomery County. A picturesque open-air shopping environment and vibrant setting are enhanced by a beautiful lake—the perfect spot for a romantic stroll, lakeside al fresco dining, or a family afternoon of paddle boating and carousel riding. With a booming technology corridor along I-270 and dozens of new housing developments nearby, rio is evolving to serve one of the best markets in the nation.
Beloved regional icon in the heart of Montgomery County with an evolving mix of upscale retail that continues to attract a highly desirable mix of affluent shoppers.
Park-like, lakeside setting makes rio a destination for every occasion, with waterfront activities including paddle boating, carousel, a new inclusive playground, and special events.
Premier dining and entertainment including a renovated and upgraded AMC/Loews rio Cinemas 18, popular restaurants like Copper Canyon Grill, California Pizza Kitchen, Yard House, and Uncle Julio's, and fast-casual crowd pleasers like Chipotle, Poki DC and Nando's Peri Peri.
Curated shopping and services featuring a mix of boutiques such as bluemercury, Francesca's, and South Moon Under, anchors such as Dick's Sporting Goods, Kohl's and Target, and two Marriott hotels.
Highly visible, convenient location at the intersection of I-270 and I-370 near the ICC and Metro's Red Line Station at Shady Grove, with four garages offering complimentary parking.
Now Open: Silver Diner and Dave & Buster's
Coming Soon: True Food Kitchen
Demographics
| | 1 Mile | 3 Miles | 5 Miles |
| --- | --- | --- | --- |
| Population | 22,527 | 145,318 | 288,908 |
| Households | 9,037 | 53,031 | 102,553 |
| Avg HH Income ($) | 108,106 | 132,777 | 140,406 |
Highlights
For Lease
County: Montgomery County
Type: Retail
Total SF: 760,000

Leasing Contact
Kristin Perry
Leasing Contact 12500 Fair Lakes Center
Fairfax , VA 22033
p. 703-631-7510

Specialty Leasing/Pop-Up Opportunities Contact:
Allison Szabo
Specialty Leasing/Pop-Up Opportunities Contact: p. 310-990-2182

Lee Eckholm
Specialty Leasing/Pop-Up Opportunities Contact: p. 323-632-0858

rio
| | |
| --- | --- |
| Available | Coming Available |
Available Spaces
| | | | | |
| --- | --- | --- | --- | --- |
| 0005 | 4,065 SF | | 0030 | 9,137 SF |
| 101 | 8,882 SF | | 125 | 4,057 SF |
| 201 | 3,772 SF | | 2026 | 2,780 SF |
| 2028 | 2,284 SF | | 213A | 1,506 SF |
| 300b | 74,888 SF | | 303 | 7,049 SF |
| | | |
| --- | --- | --- |
| 0001 | Corner Bakery | 4,283 SF |
| 0002 | Dick's Sporting Goods | 100,000 SF |
| 0003 | Lanzhou Hand Pull Noodle | 1,637 SF |
| 0006 | Kung Fu Tea | 1,240 SF |
| 0011 | south moon under | 4,692 SF |
| 11B | Francesca's | 1,021 SF |
| 0021 | Barnes and Noble Booksellers | 27,050 SF |
| 0025 | Target | 153,000 SF |
| 026A | Revive Therapy & Wellness | 1,587 SF |
| 0029 | LOFT | 6,360 SF |
| 0031 | Xfinity | 4,696 SF |
| 0035 | Torrid | 3,497 SF |
| 100 | Copper Canyon Grill | 7,000 SF |
| 128 | Potbelly Sandwich Shop | 1,992 SF |
| 129 | White House | Black Market | 3,600 SF |
| 136 | California Pizza Kitchen | 5,963 SF |
| 205 | Chipotle Mexican Grill | 2,449 SF |
| 208 | Nouvelle Nail Spa | 1,008 SF |
| 0211 | Yard House | 7,600 SF |
| 212 | Bach To Rock | 3,598 SF |
| 215 | Fantasticks | 1,131 SF |
| 216 | IT'SUGAR | 2,351 SF |
| 217 | MUSE Paint Bar | 2,792 SF |
| 220 | Lilly Magilly's | 1,174 SF |
| 0221 | True Food Kitchen | 6,320 SF |
| 224 | Nando's | 3,924 SF |
| 229 | BGR Burger | 2,335 SF |
| 0231 | Uncle Julio's | 9,000 SF |
| 236 | Poki DC | 1,509 SF |
| 300a | AMC Theatres | 87,504 SF |
| 301 | Silver Diner | 6,881 SF |
| 302 | Tara Thai | 2,895 SF |
| 304 | Dave & Buster's | 35,586 SF |
| 306 | Guapo's | 6,745 SF |
| 307 | ZIPS Dry Cleaners | 5,909 SF |
| 1020 | FineWine.com | 2,585 SF |
| 2020 | Chico's | 2,580 SF |
| 3020 | Rooster's Men's Grooming Center | 1,252 SF |
| 4020 | Amazing Lash | 1,388 SF |
| 5022 | bluemercury | 2,784 SF |
| 9870 | KOHL'S | 93,000 SF |